Many businesses have seen their CX scores decrease in 2022 after rebounding from the declines seen during the pandemic. What is causing this decrease and more importantly what can you do to reverse this trend?
What is going on with CX scores?
In the article "Why is Customer Satisfaction Falling When CX Spending is Booming? 6 Ways to Improve Linkage," author "Roy Poytner" notes that despite companies increasing their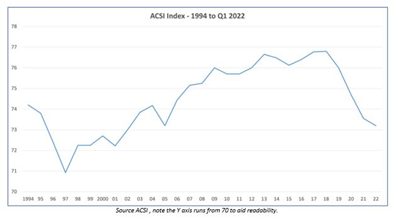 spending on Customer Experience (CX) programs year over year, CX scores have shown a decline in recent years, according to data from ACSI. However, Poytner emphasizes that this does not diminish the importance of customer satisfaction, as data shows that companies with the best customer satisfaction scores have higher profits and better stock market returns.
Forrester's Customer Experience Index from 2022 reports that CX quality fell for 19% of brands in 2022, which is the highest proportion of brands to drop in one year since the inception of the survey. CX levels have fallen back to early 2020 levels, reversing the gains that were achieved in 2021. Rick Parrish, VP and research director at Forrester, states that "CX quality in the US, which reached new heights in 2021, has fallen to pre-pandemic levels due to brands losing their customer focus. This is unfortunate for businesses that survived the worst of the pandemic but are now losing CX-driven customer loyalty gains. For brands to regain CX momentum, leaders will need to refocus their behavior on helping their companies to become customer obsessed."
Our data from Service 800 clients, which are all B2B businesses, show that NPS scores rose from 55.2% in 2015 to 67.9% in 2018. There was a drop in 2019 (65.9%) followed by an increase

in 2020 (67.1%) and 2021 (68.1%), before a small decline in 2022 (66.8%). However, the first quarter of 2023 has shown an increase once again in NPS scores (68.4%).
What is causing this decrease?
Companies have been spending more on CX programs but are still experiencing a drop in CX scores. This is partly due to the pandemic, which has caused staffing shortages and supply chain issues. However, customers are not as patient as they used to be,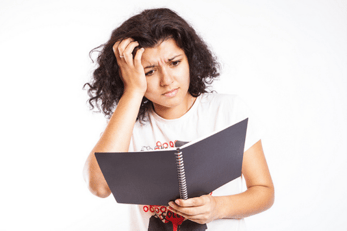 and this has led to a decrease in customer satisfaction. To improve CX scores, companies must focus on meeting customer expectations, which have increased due to continued improvements by many companies each year. Furthermore, new companies are entering the market and implementing CX programs to compete, which has also led to higher expectations from customers.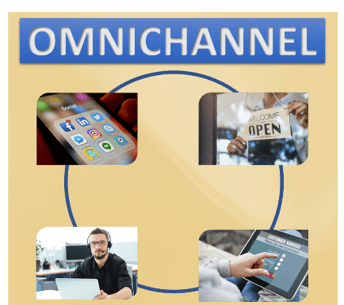 Another factor contributing to the decline in CX scores is the growth of omnichannel services, which has made it difficult for companies to provide a seamless experience across all channels. Automation and outsourcing trends have also had an impact on CX scores, as they can sometimes result in a decrease in quality of service. Companies must strike a balance between cost-cutting measures and providing excellent customer service.
In some cases, the CX programs themselves may be causing the decline in CX scores. While these programs are meant to improve customer experience, they can sometimes be too focused on metrics and not enough on the customer's actual experience. To truly improve CX, companies must listen to customer feedback and make changes accordingly.
What should you be doing?
Review your CX program.
A strong and vibrant CX program must continue to find and address customer issues. Take a moment to review your CX program and ensure that it has not stagnated or regressed. Are you truly listening to your customers? Are you focusing on what is really impacting your customers today, rather than issues that are no longer relevant? Are you providing the necessary internal data for the company to identify and resolve issues?
To ensure that you are addressing the root causes of customer issues, it is important to regularly analyze customer feedback and customer journey data. Use this information to identify patterns and trends that can help you discover the underlying causes of customer issues. From there, you can develop a plan to address these issues and improve the overall customer experience.
Focus on the long-term.
Companies often use their CX program to address negative scores one at a time, instead of addressing the underlying issue. This causes companies to focus on short-term fixes instead of long-term solutions. To truly improve customer experiences, the root causes of customer issues need to be uncovered and fixed.
In addition, it is important to think about the long-term sustainability of your CX program. Set goals and metrics that focus on the long-term success of your program, rather than just short-term gains. This will help ensure that your CX program stays on track and continues to improve over time.
Minimize impact on customers - focus on reducing customer effort.
Although the pandemic may seem over, its effects can continue to hamper businesses in numerous ways. Businesses need to look at what issues they are still dealing with and become creative in how to minimize their impact on customers.
One way to minimize the impact on your customers is to make it as easy as possible for customers to interact with your company. Examine all your systems and processes to make it easier for your customers to research, purchase, use, and obtain support. Likewise, are you making it as easy as possible for your employees to do their work? One way to improve the customer experience is to improve the employee experience.
Tightly integrated omnichannel services.
One of the biggest impacts of the pandemic has been the explosive growth of omnichannel services across almost every industry. However, much of this growth was not well thought out in terms of how customers would interact with them and, more importantly, how customers often move between 2 or more channels that have drastically different customer experiences.
To improve the customer experience, it is important to tightly integrate your omnichannel services. This means creating a seamless experience for customers as they move between different channels. It also means ensuring that the customer experience is consistent across all channels. Step into your customers' shoes and find out what kind of experience your multichannel services are providing for them. Then, take steps to improve the experience and make it as seamless as possible.
Conclusion
I'm interested in your experience with CX scores.
Can you provide some information about your organization's customer experience (CX) scores in recent years?
Has your company experienced any increases or decreases in CX scores?
Additionally, I would like to learn more about the actions your company is taking to improve customer experiences.
As customer expectations continue to rise, it is essential for companies to prioritize CX and take measures to meet and exceed those expectations.