On January 14th, SERVICE 800 will be rolling out improvements to the login pages for our applications. Updates include improved communication of updates/maintenance schedules, a new login experience and added availability of Single Sign on (SSO) functionality.
The screenshot below calls out the major changes that are reflected in this update.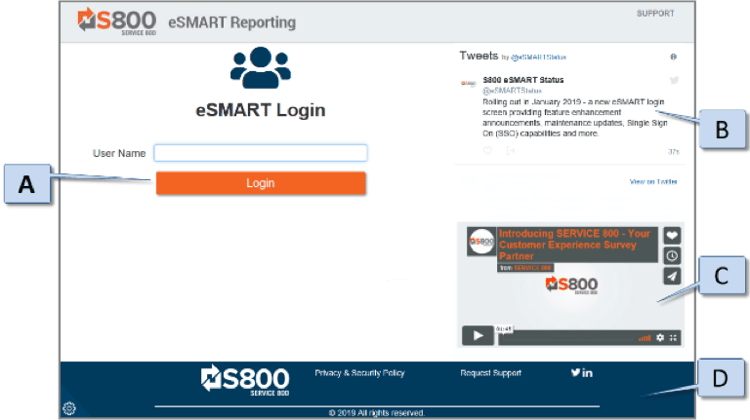 These changes will impact eSMART, ePlay and SERVICE 800 Control Center's login pages. Specifically, we are making the following changes:
New 2-step login process to allow SERVICE 800 to direct organizations enrolled in the new Single Sign-On (SSO) option and those using the standard login process accordingly. This also provides additional security from brute force attempts to attempt login to the system.


SERVICE 800 eSMART Twitter feed to be used to generate more visibility and alert you to upcoming feature enhancements, maintenance schedules, and more.


An overview video for those users new to S800 and curious of our capabilities and who SERVICE 800 is.


Links to Support, view S800's Privacy Policy or follow us on social media.
We will continue to make enhancements to our systems and processes and welcome any enhancement ideas.